Whether you're a long-time resident of the Big Apple or are just visiting, meter parking in NYC can seem overwhelmingly complicated. Luckily, following the rules is pretty simple when laid out in one place.
It's important to understand the difference between parking signs in New York City before you park on the street in any of the boroughs, especially because the city plans on hiking the cost before the end of the year.
Here is everything you need to know about parking at a meter in New York City:
Is parking that's usually metered free on weekends?
If you're parking on a Sunday in NYC, the meters are always free. On Saturdays, typical meter rules are in effect and are never suspended on major holidays. Alternate side parking rules, on the other hand, are suspended during city-approved major holidays.
What are the different types of meter parking in NYC?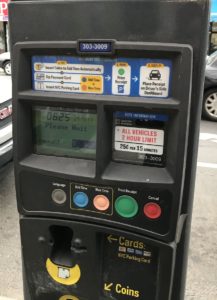 Inside the city, there are two types of parking meters: on-street muni-meters and meters at the municipal parking lot facilities. Every meter accepts coins, NYC parking cards, and a number of credit cards. Credit cards accepted include Visa, MasterCard, American Express, and Discover. Additionally, drivers who have downloaded the city's ParkNYC app are able to pay for any city meter via a mobile device.
Use either of the two types of parking meters in one of two ways. At a Pay and Display meter, you'll purchase time, take the receipt, and display it on your vehicle's dashboard.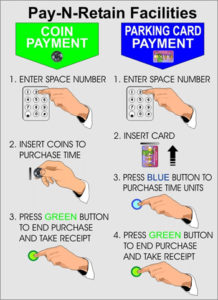 At a Pay and Retain meter, you'll park your car in a metered space, enter the space number into the meter, purchase time, and then keep the receipt. Most of the Pay and Retain meters are inside off-street municipal parking facilities and lots. Double check that the space number where you parked matches the number printed on your receipt before you exit the facility.
Is the muni-meter rate the same all over the city?
No, muni-meter rates vary depending on the time of day and the area. Meter parking rates are posted on each parking meter. Look at the top left-hand corner of the sign to see the legal amount of time you may park there.
The price you pay at the meter will vary depending on where you are in NYC. For example, in The Bronx, Brooklyn, Queens, and Staten Island, the hourly rate is $1.00 flat. But in Manhattan on the south side of 96th Street, you will pay a whopping $3.50 an hour!
Rates also vary depending on the time of day. During low demand hours, meter rates are cheaper. Some zones only have paid-parking during certain hours of the day. Look at the upper left-hand corner of the meter sign to find the legal parking duration, which varies depending on the area.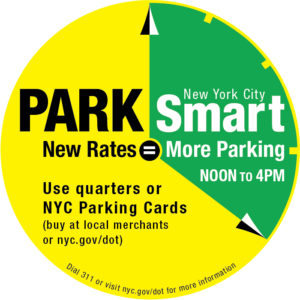 Parking is scarce in the Big Apple. In order to reduce congestion, metered parking is most expensive during high demand hours. For example, in Greenwich Village the high demand hours are between 6:00 and10:00 pm, so parking during this time will cost you $5.00 an hour. Parking any other time in Greenwich village cost only $3.50. Don't park longer than necessary and try to avoid high demand hours if possible.
What about long-term parking?
Reserve long-term parking inside any of the city's municipal parking garages. Reservations for long-term parking spaces are available online five days before the beginning of each month for the following month. The long-term parking online system operates on a first-come, first serve basis up to the available number of spots for each garage. Only one reservation permit will be issued to each driver, per garage.
What is a New York City parking card?
A New York City parking card is a pre-paid card that can be used at street meters or municipal lots to pay for parking. The cards are prepaid and come in denominations of $20, $50, and $100 amounts.
To purchase a card for the first time, go to the nyc website and register. Alternatively, cards are available for purchase at the St. George Ferry Terminal (passenger boarding area) from four machines, which are accessible 24 hours.
NYC Parking cards are useful because they never expire and are valid until the card balance runs down to zero. Every time you use the card, its new balance will be displayed on meter's display screen.
If your parking card doesn't have enough money on it for the time you'd like to purchase, you're also able to combine the card's remaining value with coins. When you insert your NYC parking card into the meter, leave it there while you insert coins to combine the balance. Complete the transaction as normal.
Ultimately, we recommend using the city's app or your own personal card because, at this time, NYC parking cards are not reloadable or recyclable. Additionally, when NYC parking cards are lost, stolen, or damaged in any way, The City of New York will not replace or reimburse them.
What do I do if my parking meter is broken?
To report a broken meter, visit 311 Online and report it. If the meter closest to you is broken, you are not exempt. You'll still be ticketed if you don't have a receipt. Find the next nearest meter, and use it obtain a receipt.
How much do NYC Parking Meter tickets typically cost?
If you are unlucky enough to get an NYC meter ticket, expect to pay anywhere from $45-$600 depending on the violation.
Double check that the parking space you're reserving time for matches the space you are parked. Keep a close eye on your meter and all surrounding signage to avoid a ticket.
For more convenience, find free parking or the cheapest meter parking while on the go with the free SpotAngels app available on the Apple App Store and the Google Play Store.