How does Alternate Side Parking work in NYC?
Alternate side parking is the NYC parking rule that forces the clearing of parked cars to accommodate the street-sweeping schedule. It happens once or twice a week in many areas of Manhattan, The Bronx, Queens and Brooklyn.
Quoting Wikipedia:
Alternate side parking is a traffic law that dictates on which side of a street cars can be parked on a given day. The law is intended to promote efficient flow of traffic, as well as to allow street sweepers and snowplows to reach the curb without parked cars impeding their progress. Some proponents also regard the law, which can be quite inconvenient for drivers, as a way to encourage the use of public transportation.
What does this mean for you if you own a car and park on street in NYC?
Well, you'll most probably need to move your car early in the morning or late at night to avoid getting a parking ticket!
Where can I find Alternate Side Parking hours for my street?
The hours are posted on your street's parking signs. You can also check alternate side parking hours for any street in Manhattan, The Bronx, Queens and Brooklyn using on our map below. Just click on a parking spot and view all the parking rules in the side bar including alternate side parking hours.
You can also use the SpotAngels mobile app while at home or in your car to view the hours easily. As a bonus, it will send you notifications before alternate side parking so you don't get a parking ticket.
Can I park if the street sweeper passed by already?
No, you can't legally park until the end time of the parking rule. You would still be at risk of getting a parking ticket. Street sweepers will occasionally go around the block twice. It is common in the fall when leaves are likely to clog the brushes.
How expensive is the parking ticket?
NYC parking tickets are among the most expensive in the country. In 2016, NYC parking tickets issued totaled $440 million! Alternate side parking was the #1 parking violation in Brooklyn, The Bronx and Queens!
Violating alternate side parking costs $65 if you live in Manhattan on 96th Street or below and $45 in all other areas including Brooklyn, The Bronx and Queens.
Does Alternate Side Parking apply all year long?
No, the good news is street cleaning gets a break every now and then!
During the legal and religious holidays listed below, street sweepers do not pass by so alternate side parking rules are suspended . You can also see the upcoming suspensions on our NYC parking map when you click on the parking spots and view the side bar.
During bad weather, in particular snowstorms, alternate side parking can be suspended to facilitate the work of the plows, trash collectors and other city services and also to keep more cars off the streets during chaos. The easiest way to get real-time information on this is to check the city's dedicated Twitter account for ASP as they like to abbreviate it.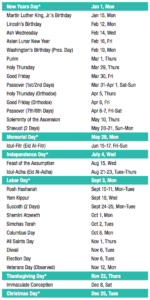 On any other day, move your car to avoid an expensive NYC parking ticket!