How does Alternate Side Parking work?
Alternate side parking (or ASP) is the NYC parking rule that forces the clearing of parked cars to accommodate the street cleaning schedule. It happens once or twice a week in many areas of Manhattan, The Bronx, Queens and Brooklyn. If you park during alternate side parking hours, you are likely to get a street cleaning ticket.
Quoting Wikipedia:
Alternate side parking is a traffic law that dictates on which side of a street cars can be parked on a given day. The law is intended to promote efficient flow of traffic, as well as to allow street sweepers and snowplows to reach the curb without parked cars impeding their progress.
What time is Alternate Side Parking enforced?
The hours are posted on your street's parking signs. You can also check the hours for any street in Manhattan, The Bronx, Queens and Brooklyn using our map below. Just click on a parking spot and view all the parking rules in the side bar.
Is it legal to park after the Street Sweeper passes?
No, you can't legally park until the end time of any parking rule. Street sweepers will occasionally go around the block twice. It is common in the fall when leaves are likely to clog the brushes. You would still be at risk of getting a street cleaning NYC ticket.
How much is a Street Cleaning NYC Ticket?
NYC parking tickets are among the most expensive in the country. In 2016, they totaled $440 million! Street Cleaning NYC was the #1 parking violation in Brooklyn, The Bronx and Queens!
A street cleaning NYC ticket costs $65 if you live in Manhattan on 96th Street or below and $45 in all other areas including Brooklyn, The Bronx and Queens.
So how do I avoid getting a Street Cleaning NYC Ticket?
There are two main reasons why this ticket is so common:
Parking signs are often hard to understand
Many people simply forget about it because they didn't set a reminder/alarm
A few services to track the alternate side parking schedule are currently available. New York City DOT has a NYC alternate side parking map but the search is very complicated and it's not mobile-friendly. Other companies also offer a map but the data is often missing or inaccurate.
The SpotAngels app is the easiest way to deal with the issue and is used by thousands of NYC residents. The app connects to the car's bluetooth and runs in the background to AUTOMATICALLY set a reminder for alternate side parking each time the vehicle parks. The app is available on the App Store and Google Play.
When is Alternate Side Parking Suspended?
The rule is suspended during:
Legal and religious holidays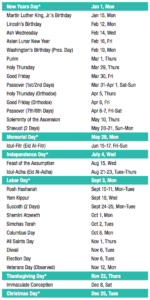 Bad weather (in particular snowstorms) to facilitate the work of city services and to keep cars off the streets during chaos. The SpotAngels app (iOS and Android) alerts you whenever alternate side parking is suspended. The city also provides real-time information through their dedicated Twitter account for ASP.
On any other day, move your car to avoid an expensive street cleaning ticket!