Looking for safe and cheap monthly parking in Milwaukee? Tired of playing the street parking game? This guide will help you find the perfect monthly parking spot – without breaking the bank 😉
Here are some precious tools you will need to be armed with:
A map of all the garages and lots offering monthly spots around you, along with the rates they offer. (Check out this map!)
All the tricks and tips that will allow you to trade price for convenience – if you have a limited budget.
Map of Milwaukee public garages and lots
Browse the map to locate the public garages and lots in Milwaukee offering monthly parking. The locations with a yellow icon offer online deals that you can book. For those that don't offer online deals, you can still ask for availability and prices via the SpotAngels website and apps.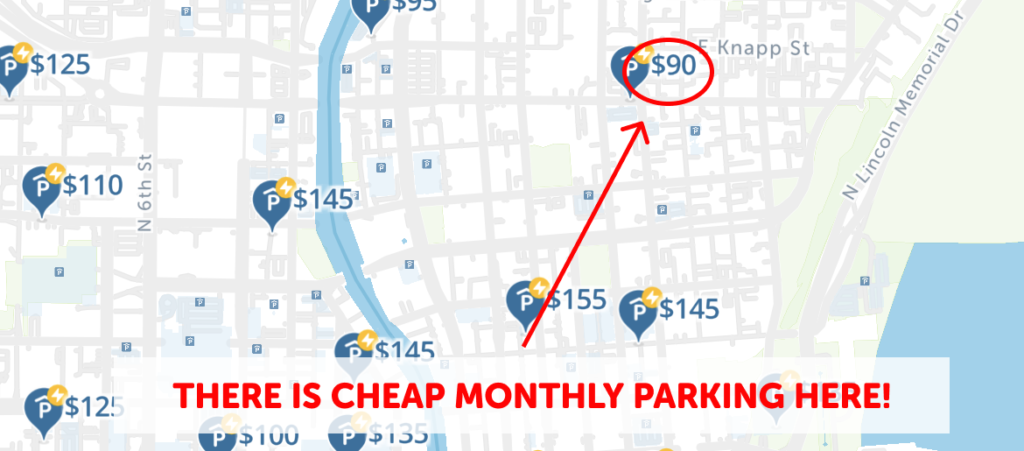 Prices to expect & online deals:
Let's set expectations correctly – a dedicated monthly spot in Milwaukee is likely to cost more than $125/month. But don't panic, you can also find spots below $100 a month.
Here are some of the garages offering monthly parking deals in Milwaukee:
Lake Lot at 328 North Van Buren Street – starting at $105 for a 24/7 spot – ideal for Downtown Milwaukee Monthly Parking. View Deal.
Kenilworth Lot at 2139 N Prospect Avenue – ideal for Monthly Parking at Lower East Side. Request Price.
Tips if you have a limited budget:
If you have a limited budget, here are some tricks and tips:
Use parking only when you need it:
If you need parking for work, you can find spots to rent during working hours for a reduced price.
Similarly, you can buy a monthly spot for overnight and weekends only if you need a monthly spot when you come back home.
If you rent a parking spot for part of the time, you will need to play the Milwaukee street parking game and we are here to help -> Check this Milwaukee street parking map to see free parking options around you.
Take advantage of the Park + Ride at transit stations
If you are commuting to Milwaukee or the other way around, you can buy a monthly parking spot near transit stations.
Intermodal Lot at 701 West Saint Paul Avenue – starting at $100 for a 24/7 unreserved spot – ideal if you take the Milwaukee Amtrack Station. View Deal.
If you need to find parking on the go, download the SpotAngels app – featured as the best parking app in the US by Apple and Google!