Baltimore offers travelers and residents alike a wide variety of activities to explore within its city limits, but the local parking authority makes parking tricky. When you're looking for parking, expect to compete with a high volume of people who are also looking for the most popular spots.
Understanding Baltimore street parking rules:
Keep reading to find out about Baltimore parking rules and discover tips and tricks to avoid surprise regulations and find the best parking spots near your destination.
Tips to avoid a parking ticket
Don't park within 15 feet of a fire hydrant.
Pay attention to nearby parking signs and regulations.
Make sure that you renew your residential parking permit every year if you live in a residential area that requires one.
How does residential parking work?
In Baltimore, the Residential Parking Permit program allows residents to purchase special parking permits in order to park on the street in certain neighborhoods. To apply, go to the parking office in person during regular business hours with the following documents:
Proof of Residency
Current Vehicle Registration
Find specific document requirements here. Keep in mind, residents must reapply for the parking permit every single year or they risk being ticketed.
How does parking work during a snowstorm?
When there's a snow emergency, don't park on snow emergency routes. These are marked by black and white signs that sit above other parking signs on the same pole. If you park on a snow emergency route during a storm, your car will be ticketed and moved to allow the plows to salt and clear the roads without hassle.
What do street parking signs in Baltimore mean?
Here's how to read the parking signs you'll come across while parking in the city: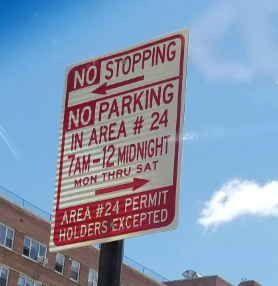 No Stopping: Don't ever stop here! Not even for a second.
No Parking or No Stopping: Typically temporary, this tells you not to stop the car or park here.
No Parking (Driveway Posting): This one appears near a driveway. Don't park here or you'll block it. Make sure to stay clear away from these types of parking signs. A car coming out of the driveway may not see you, and you'll end up in a fender bender far more expensive than just a parking ticket.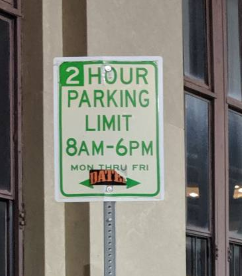 Passenger Loading Zone: Only stop here as long as it takes to load or unload passengers or items from your car.
Reserved Handicap Parking: Make sure you have your accessible parking tag visible when you park in these spaces.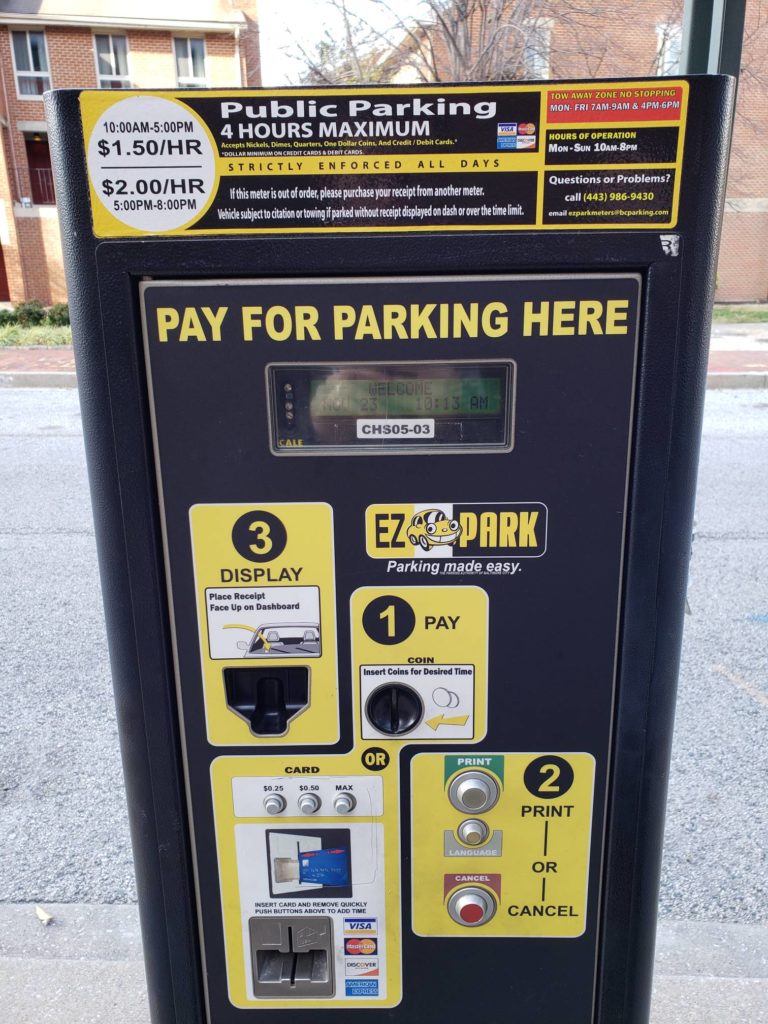 Parking Meter: This is a City of Baltimore parking meter. Make sure you pay the meter and only stay in the spot as long as it says you're allowed. Display your receipt on your dashboard.
What are street parking rules for metered spaces?
Baltimore has plenty of street and metered parking that costs between $0.4 to $3.25 per hour. It's important to understand the rules of that specific meter if you don't want to get a parking ticket.

Read all of the street signs carefully before you park.

Which hours is metered parking in effect?
Single-space and multi-space meters are enforced 8AM-6PM, Mon-Sat. Street parking in Baltimore is free on Sundays!

Where can I park in Baltimore's inner harbor?
This popular Baltimore destination doesn't have to be a parking headache. Here's to find affordable or free parking in Inner Harbor:
On weekends many garages offer a discounted all-day flat rate.
If you're coming for dinner, many parking garages offer a flat rate after 5 p.m. Sunday through Friday.
Self-pay parking lots offer a flat rate that tends to be lower than other parking lots.
Nearby neighborhoods like Little Italy and Federal Hill have two-hour free street parking but there are restrictions, so read the signs carefully.
Heading to a restaurant? Call ahead because many offer parking validation.
How to find the best cheap parking in Baltimore?
Pay attention to Baltimore parking rules to make sure you don't end up with a ticket on your windshield. Here is some useful knowledge to find the best parking near your destination:
In general, parking garages offer the most convenient parking. To compare costs, head to the parking map and look for the parking garage icon.
There are street parking spaces downtown that allow you to park overnight, just make sure you pay the additional fee at the meter.
Where can I find parking garages near downtown?
The easiest way to find parking garages in Baltimore is by heading to the parking map. There, you'll find all of the information you need and you'll be able to reserve a spot right then and there.

What's the cost of a Baltimore parking ticket?
Costs for parking tickets in Austin aren't cheap. If you're already facing a steep parking ticket bill, the city allows you to contest it.
| | |
| --- | --- |
| Parking Violation | Parking Fine |
| No Stopping Zone, Handicap Zone | $502 |
| Impeding Traffic | $252 |
| Camden Yard Stadium Event Parking Violation | $102 |
| Snow Emergency Route | $77 |
| Parking too Close to a Fire Hydrant | $77 |
| Tow-Away Zone | $52 |
| Passenger Loading Zone | $32 |
| Expired Tags | $32 |
| Parking Meter Violation | $32 |
How do I pay a Baltimore parking ticket?
Drivers with parking tickets are encouraged to pay online using the city's website.

What do I do if my car gets towed?
Before you jump to any conclusions, call 311 or visit the official city towing page. There are several ways you can find out if your car was towed or stolen.

Is metered parking suspended today?
Baltimore does give people a break every once in a while. Street parking is free on select parking holidays throughout the year.

Check out this guide if you're looking for free parking in Baltimore beyond the free parking that's available every Sunday at metered spaces.
Which days are Baltimore parking holidays?
Below are the official parking holidays in the city. To know which specific regulations are suspended on these days, please check the SpotAngels app.
| | |
| --- | --- |
| Holiday | Date |
| New Year's Day | January 1 |
| Independence Day | July 3 |
| Labor Day | September 7 |
| Thanksgiving Day | November 26 |
| Christmas Day | December 25 |